Quality
Dura-Line is committed to delivering value to our customers by providing on-time goods, services, and information to meet or exceed the requirements and expectations of our customers. We strive for high levels of customer loyalty, seek long-term commitments, and productive customer relationships. The Quality Plan Includes:
Testing Incoming Raw Materials: HDPE resin and other components
Consistent setup and operation of processes
Testing of each product to ensure compliance to applicable standards to local requirements along with Dura-Line quality guidelines
Specifications and/or Customer Specifications, to name a few
Inspection of all products by Production and Quality Personnel
Regular feedback on performance, issues, and improvement plans is gathered and acted upon to continuously improve operations and customer experience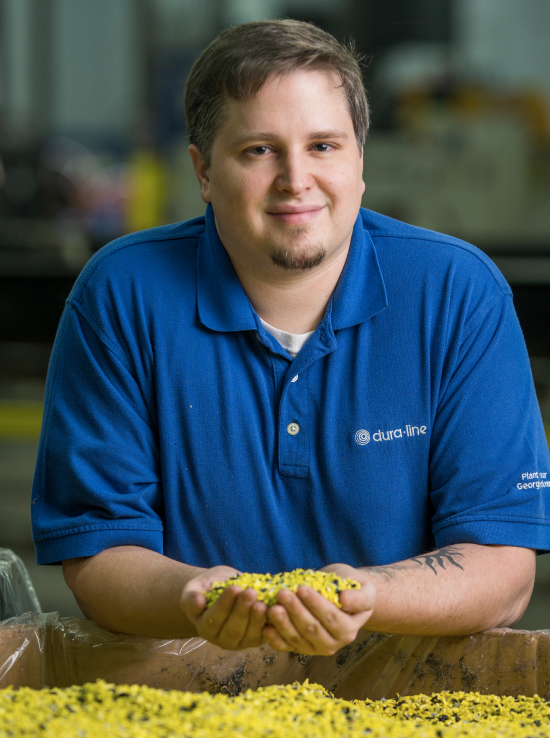 Our Employee Involvement Program is designed to include all employees. This program provides a method for recognition of employees who demonstrate dedication to safety, quality and to the cost-effective production of our products. This program also invites employees to actively participate in the implementation of their ideas.
Part of the foundation of our Quality Program is data based Continuous Improvement. We take a team approach to problem solving and improvement efforts. We practice and encourage open communication about the business through a variety of channels, including communicating on business priorities and situations, as they develop, towards a shared vision of growth.
Sustainability
There are several environmental benefits associated with using HDPE:
Non-leaching
Resin and pipe have a superior resistance to failure, corrosion, tuberculation, deposits, and rapid crack propagation (RCP)
Modern manufacturing methods allow for hundreds, or even thousands, of meters of continuous extrusion, which results in fewer joints
High performance in extreme temperatures, which greatly reduces compromised pathways
Reduced transportation, handling, and installation due to quick installation with less heavy machinery which reduces fuel and labor usage as well as ground disturbance when compared with installation of steel counterparts
Joints typically use a mechanical coupler, rather than a glue-based solvent which gives off noxious fumes
Fewer and smaller handholes required
Low lifecycle costs
Useful life of HDPE is estimated at 50+ years
Studies have shown that HDPE can withstand scratching and gouging up to 10-20 percent with no detrimental effects to the long-term performance of the pipe
Versatility of design allows for multiple applications in several industries
Safety
The protection of our environment, and the health and safety of our employees, our customers and our communities is an integral part of Dura-Line's goal to be a world class global company. At Dura-Line, safety comes first. We embrace safety with a focus on preventative safety practices to achieve an ultimate goal of zero injuries. Every employee is accountable for his or her safety and health as well as everyone else on the Dura-Line team.
Since most industrial injuries and property loss through accidents are preventable, Dura-Line has established a comprehensive health and safety program. The purpose of this program is to provide the safety of all personnel and to eliminate any known hazards that could lead to a potential injury. We will seek to continuously improve our practices in light of advances in technology and new understandings in health and safety.
Every one of us must at all times:
Take a pro-active stance to initiate and maintain a safe and healthful environment
Enforce all rules of the Dura-Line Safety Program
Be committed to continuous improvement of the safety process
Follow established safety procedures
Avoid all unsafe acts
Use and maintain equipment safety guards
Wear personal protection equipment (PPE), where required, for their own safety
Report immediately all accidents and hazards
Follow established safety rules
Be committed to continuous improvement of the safety process
It is our worldwide policy to manufacture and market our products and operate our facilities while complying with all applicable environmental, health and safety rules and regulations. The health and safety of our customers, our employees and the communities in which we operate is paramount in all we do. As a team, we can make it happen.
Contact Us
Do you have a question?
Do you want to learn more about Dura-Line? Don't hesitate to send us a message and we'll get back to you right away.